Consegna gratuita prevista entro 4-6 giorni lavorativi con restituzione gratuita
Cloudsurfer
Agile and responsive running shoe.
Consegna gratuita prevista entro 4-6 giorni lavorativi con restituzione gratuita
Live from the On Labs
The Cloudsurfer - shoes on, game on.
Rete traspirante
La tomaia snella con rete leggera in microfibra 3D Air-Mesh permette un'ottima areazione e raffreddamento. Inoltre la linguetta perforata aggiunge il comfort alla traspirabilità.
In-shoe comfort
Second-layer sock construction brings ultimate in-shoe comfort. It adapts to your foot for a unique fit.

Sistema brevettato CloudTec®
Il sistema brevettato CloudTec® abbinato alla Speedboard è perfetto per trasformare l'energia della corsa in una spinta in avanti. La speciale gomma Rebound offre il massimo in reattività e resistenza all'abrasione.

Comfort e visibilità
La parte del tallone ergonomica è completata da una fascia di sostegno per abbracciare il calcagno ed offrire una calzata perfetta. Le applicazioni riflettenti sul retro e sui lati aiutano la visibilità al buio.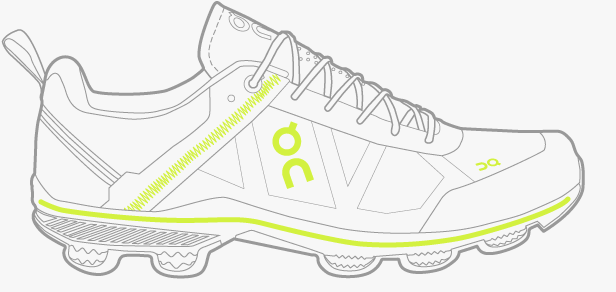 Runner profile
All types of runners looking for a cushioned yet highly responsive training and competition shoe
Goal
Increase performance, train and compete
Heel toe offset
7 mm | 0.28 in
Weight
275g|9.7oz (US M 8.5)
What runners say
Simply the best
3 years ago I decided to keep fit as I was looking a bit lumpy, living in the countryside and around fantastic scenery I thought running would be a great option. Wanting to look good and liking the ON running trainers I purchased a pair and haven't looked back ... they are fantastic.
I started off running just a mile but 3 years on I run 30 miles a week Sunday being my main run about 16 miles and can safely say they give support, work your calfs and take a lot of the pressure from your knees.
My On only last a year so I am currants on my third pair each year noticing the improvements being made, fantastic running trainers and look feel fantastic.
Great shoes
Just got my third pair, switched back to my previous shoes and would never go back again. Like running in socks but with loads of cushioning. Can't fault them
MY SECOND PAIR
I just purchased my second pair of On Shoes. I have a cloudsurfer and now purchased a cloud.
I use the cloudsurfer for longer runs- 5 Km and indoor treadmill work outs. It is an awesome shoe and i feel no pressure on my ankles and heels . I have increased my speed on the treadmill and have gone from 8 to 9.
The cloud is a light weight shoe which I use for walking,volleyball and short trips. The shoes are light and you land on your feet without dislodging your balance which is a great thing.
I would recommend these shoes to any one and would vouch for their performance compared to any other shoe in the market. I have used the older pair for over 2 years now and they are as good as new.